Busy Saturday for the Toons….
The day started by attending a Baptism at Old St. Patrick's for Ava Grace (the daughter of Claire's friend Nicole from high school). It was our first time in Old St. Pat's. I was taken back when we first entered the church. There was a strong Celtic theme throughout the church. I was expecting something very traditional for a church that old but it was still very beautiful. Not being Catholic or very religious at all, I still found the Baptism very interesting. A lot of history of Old St. Patrick's, the significance of a Baptism, and why things were done were explained. I found it all very interesting. However, not interesting enough to start going to Church every Sunday.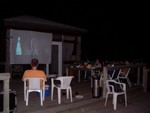 All afternoon was spent on the rooftop deck smoking ribs. It was hotter than HELL (keeping with the religious theme… hehehe) and humid. We have a dinner club with two other couples in our building that meets about once a month. Being our turn to host and pick a theme, we went with a Grill Picnic on the roof. I was a little worried when I was smoking the ribs that it was going to be too hot and humid to be outside for dinner club. But by 7:00, it had cooled down nicely and turned out to be a beautiful night. How did the ribs turn out? Thanks for asking… My ribs turned out better than I was expecting for my first crack at using a rub and smoking them. However, Tim stole my thunder.. lol. He had a great idea of watching a movie outside on the rooftop deck. He brought his projector, laptop, and a sheet for a screen. Not only were we able to watch Pirates of the Caribbean but anyone riding the El train on the Blue Line could watch as well. I think we will be watching a few more movies on the rooftop deck before the summer is over. Click here to see the rest of the dinner club pictures.