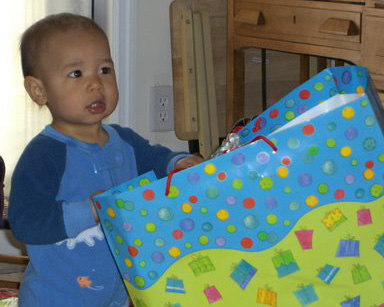 Brendan's first Birthday has come and gone. We visited all the Grandparents on the East Coast for the weekend and had a great time. We can't wait to move back when Claire finishes dental school so we can see them more often. However, I know once we move back we'll probably be longing for the days we lived in Chicago. I can't help but think we'll turn into the 'Barones' (see Everybody Loves Raymond) once we move back to the East Coast. Not that being like the 'Barones' would be the worst thing that could happen. But… I digress.
The first year of parenting has lived up to the hype. I've learned more than I every thought possible about myself and about what true unconditional love is. Before Brendan was born, so many other parents said it's like nothing else in the World and that I wouldn't and couldn't understand it before I experienced being a father myself…. And how right they were. I've had a blast watching Brendan grow and develop his own little personality. I feel we've been very blessed to have such a happy baby that doesn't fuss too much. I just hope this doesn't mean that our second child is going to be a holy terror. I guess time will tell.
I've made a DVD of his 1st year that i'll be posting soon. The title of the DVD is 'Tiny Toon Adventures' keeping with the movie theme of Brendan's birth announcement. It's over an hour long which means…. zzzz… snore… zzzz. if you are not part of the family or he's not your child/grandchild/nephew. But, I will post the chapters of the DVD anyway for all to see. Stay tuned.