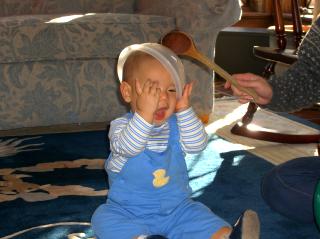 Thanksgiving has come and gone and we have so much to be thankful for this year. Obviously we are most thankful for B and that he is healthy and happy. We would be even more thankful if he was sleeping through the night but that is another story for another time. The Chicago Toons went to Connecticut for the long weekend and stayed with Claire's parents. I cant believe that we'll be leaving Chicago and moving to that part of the country in less than 2 years. For the longest time, moving back to the east coast has been something far out in the future. Now that Claire is getting closer to finishing dental school, it seems more tangible. This picture shows us that we didnt have to bring any toys to Nanna and Grandpas. Turns out they had plenty of things B could play with. In honor of Thanksgiving, here is list of some of the small things (outside the usual big ones like: family, health, etc.) I am thankful for:
SNAPS: Only a parent of a newborn can truly appreciate the simplicity and ease of the snap.
CHEERIOS: This is a love hate relationship. They can stop B from fussing in a heart beat. However, its no fun finding them all over the place. Its even worse when you hear something crunch under your foot.
ANYTHING THAT BLOCKS OUT THE SOUND OF A CRYING BABY: Including but not limited to wireless headphones to watch tv, ipod, and headphones to use with the computer. Sometimes babies just need to cry. And when they do, you need something to block out the crying.
DIGITAL CAMERA: Take as many pictures as you like. Keep as many of them as you like and get rid of the bad ones.
HEADSET with MUTE BUTTON for CORDLESS PHONE: When you have to watch your child and work from home, this is a must. The mute button on the headset is also non-negotiable.
I hope your Thanksgiving was as wonderful as ours. The only bad part of going back east for Thanksgiving… no leftovers.
Oh yeah… new photos are posted on the photos page.